In 2018, 55% of the worlds population lived in urban areas, a rate set to reach 68% by 2050. Urbanisation poses considerable challenges, including overpopulation, congestion, environmental quality and access to energy. Smart cities must reassess how to sustainably supply the population with basic quality of life.
From traffic lights, mobile devices, to kitchen electronics, the vision of inter-connecting the digital and physical worlds together to provide for a better life is getting closer to reality. We have all heard of 'Smart Cities', yet don't think about what it really means.
The term "smart city" doesn't describe a sci-fi utopia. A smart city is simply one that uses technology to improve outcomes across every aspect of city operations and enhance the services it offers to its residents.
Have it be reducing congestion, waste management, or providing sustainable energy – smart cities are all about using digital technologies to solve pressing issues.
Real time alerts
Imagine receiving an alert on your phone as you are about to head out for office. There's planned maintenance on your usual commute – your GPS is automatically reroute based on real-time updates. As you are approaching your destination, you receive another alert, a parking space has just become free. The location of the parking space is automatically highlighted on your map.
Above isn't far from reality. There is a large initiative into adopting technologies such as the IoT, and distributed sensors to drive further intelligence.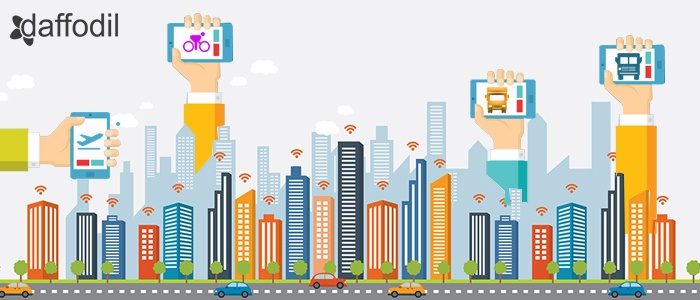 Indeed, by installing distributed sensors across city infrastructures – smart cities can apply big data analysis to monitor and act on information produced by these sensors. Enabling aforementioned use cases.
The challenge of Big Data
As an effect of urbanisation, the volume of data generated by the Internet of Things (IoT) is forecasted to reach a whopping 80 zetabytes [2], or put in other terms, 80 trillion gigabytes! Without the right tooling or solutions, this vast volume of data can instead lead to information explosion.
Information explosion is the state of rapid increase in the amount of published data and the effects of its abundance. As the amount of data grows, the problem of managing this information and extracting value from it becomes more difficult.
However, the effect of its abundance isn't just limited to the capture and storage of the data, but also the ability to analyse it and process it into business intelligence.
By 2025, the number of connected devices is set to reach 75 billion. With hundreds of millions being sensors installed in every major city in the world. Devices that are producing a staggering amount of data every millisecond. Whose data that is currently captured, stored into data lakes and silos, and more or less forgotten about.
In order to extract value and derive intelligence from these sensors – the data must be ingested, processed and translated into real world events – all of which must happen in real time. This is exactly where we come in.
Don't wait for the race to be won, get ahead of the game now. Visit our about us to learn more, or contact us now to learn how we can help enable you tackle the problems of future.

[1] https://population.un.org/wup/Publications/Files/WUP2018-Report.pdf
[2] https://futureiot.tech/idc-forecasts-connected-iot-devices-to-generate-79-4zb-of-data-in-2025/
[3] https://www.statista.com/statistics/471264/iot-number-of-connected-devices-worldwide/